A global hub for sharing International Women's Day news, events and resources
International Women's Day Marian Price Rally Coalisland 7.30

international | rights and freedoms | event notice

Saturday March 02, 2013 05:26

by ACHUSLA - AllVoices

International Women's Murder, Torture, Internment
Marian Price Rally Friday the 8th of March 2013

A Rally in solidarity with Marian Price in Coalisland on International Women's Day, the 8th March, will be held at the Civil Rights Monument, Main Street at 7.30pm.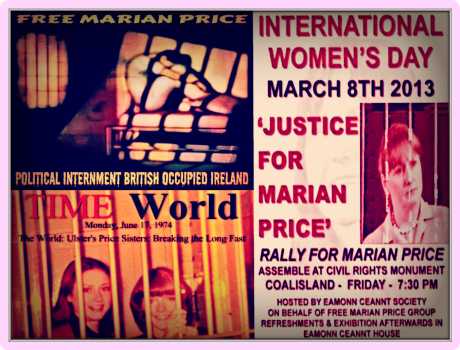 Sisters International Women's Day
There has been considerable British disinformation to confuse and divide supporters of Marian, who has been politically interned without trial (as far as her lawyers are aware) for almost two years. She will be spending her second International Women's Day in an isolated hospital unit, after previously being tortured in solitary confinement.She was also on a hunger strike previously, that lasted over 200 days, being force fed for 167 of them.

Forget the party politics, whether you are a woman, child or man, show your solidarity with Marian Price, with one United Irish voice on International Women's Day, FREE MARIAN PRICE !. The rally organized by the non-aligned Free Marian Group in Coalisland, will also hold an exhibition to pay tribute to all women who suffered injustice, degradation and denigration as Irish republican prisoners.

For people travelling to Coalisland from Belfast a bus will leave Conway Mill at 6 pm.

ALL Internatioan Support ! regardless of sex, race, creed or political party are very welcome !
Events
Report abuse or error
THIS YEAR'S IWD 2016 EVENTS BY COUNTRY
Add International Women's Day events here ...